Art and Design
Academic Year 2017-18
Useful websites for: Curating, Design, Drawing and Print, Fashion, Fine Art, Graphic Design, Illustration, Printmaking.
1000 Words | Contemporary Photography Magazine Online

Website "1000 Words is a leading online contemporary photography magazine. It commissions and publishes exhibition and photo book reviews, essays and interviews in response to the visual culture of our present moment".

a-n The Artists Information Company

Webpage Offers fast routes into an information-rich resource that's relevant to all engaged in the visual arts. Our in-depth features and content along with the Communities areas are designed to represent the multiple voices and wide range of activities and industry insights within contemporary visual arts.

Website Based in London but working across Britain and beyond, Artangel commissions and produces exceptional projects by outstanding contemporary artists. Over the past two decades, the projects have materialised in a range of different sites and situations and in countless forms of media.

Become a Design Business Owner - Learning Path - Whitney Johnsonwith Petrula Vrontikiswith Petrula Vrontikiswith Mike Figliuolowith Terry Lee Stonewith Terry Lee Stonewith Terry Lee Stonewith Petrula Vrontikiswith Dave Crenshawwith Sean AdamsAuthor

Website

Creative Skillset - Supporting Creative Industries

Website Creative Skillset is the Creative Industries' Sector Skills Council (SSC) which comprises TV, film, radio, interactive media, animation, computer games, facilities, photo imaging, publishing, advertising and fashion and textiles. Includes advice on funding.

Webpage A professional network for creative people.

Website Newsletter of the go-to-guide for creative industries

Webpage Locus+ is a visual arts commissioning agency that works with artists on the production and presentation of socially engaged, collaborative and temporary projects, primarily for non-gallery locations. In each project place or context is integral to the meaning of the artwork. To date we have completed over 50 projects touring to a further 25 other venues, produced over 20 publications and 9 artists multiples.

AIGA, the professional association for design

Website "As the profession's oldest and largest professional membership organization for design—with more than 70 chapters and more than 25,000 members—we advance design as a professional craft, strategic advantage, and vital cultural force".

Chartered Society of Designers |

Website "The internationally recognised body for the design profession, providing support and guidance for designers at every stage of their career".

Drawing and Print

0 items

Website Established in 1974, Dia Art Foundation is internationally recognized as one of the world's most influential contemporary art institutions. The name 'Dia', taken from the Greek word meaning 'through', was chosen to suggest the institution's role in enabling visionary artistic projects that might not otherwise be realized because of their scale or ambition.

Institute of Contemporary Arts

Website The ICA is one of the world's most innovative, cutting-edge arts centres, home to the best of new art and cultural thinking. ICA Members receive discounts on our unique programme of visual art, films, talks, performance and other special events.

modern & contemporary artists | the-artists.org

Website Major modern & contemporary visual artists. Sculpture, painting, installation artists, print, performance, photography, collage and multimedia and digital artists. Artist's by technique, art style and art movement, exhibition, biennial and art prize. Includes famous, established and emerging artists since 1900.

Website Moving image and digital arts organisation.

Webpage Situations' mission is to unlock new opportunities and perspectives and to catalyse positive change for people and places through extraordinary art experiences that grow out of place.

Website Tate Gallery homepage.

Website Avant Garde resource.

Website The University draws together 6 renowned colleges, each with its own world-class reputation. Our state of the art facilities include workshops with letterpress machinery, studio theatres, gallery space as well as libraries and archives for research into hundreds of years of the greatest artists and designers.

Website Art of the Title is the definitive resource for title sequence design, spanning the film, television, conference, and video game industries.

Website ATypI, Association Typographique Internationale, is the global forum and focal point for the type community and business.

Website Behance, part of the Adobe family, is the leading online platform to showcase & discover creative work. The creative world updates their work in one place to broadcast it widely and efficiently. Companies explore the work and access talent on a global scale.

CreativeBloq | Art and Design Inspiration

Website Creative Bloq delivers a daily mix of advice and inspiration for digital and traditional artists, web designers, graphic designers, 3D and VFX artists, illustrators, and more.

Website Creative Industries Site.

Website "Design Council is a charity and is recognised as a leading authority on the use of strategic design. We use design as a strategic tool to tackle major societal challenges, drive economic growth and innovation, and improve the quality of the built environment".

Webpage Designspiration is a resource to help you discover and share great design

Webpage Typography section of a graphic design site.

Website Contemporary typeface library.

Webpage "This web page provides information and airs ideas about the concept of free fonts".

Website Famous for creating long-lived typefaces marked by high performance and high style, H&Co creates the fonts that help shape the world's foremost institutions, publications, causes, and brands.

Webpage We like to talk about graphic design, branding, typography, and sometimes we might post a video or two.

Website Fonts, typefaces and all things typographical .

Home - International Society of Typographic Designers

Website "International Society of Typographic Designers, ISTD, is a professional body run by and for typographers, graphic designers and educators. The Society has an international membership who share and support its aim to create and inspire interest in all forms of typographic communication".

Website Creativity and Design site

Website Society of Experiential Graphic Design - The global community of people working at the intersection of communication design and the built environment.

Website Typenowhere was set up by the Graphic Design Department at The University of the West of England Bristol in 2008. It aims to support student learning, act as an online platform to exhibit student work and promote work from various creative sectors with hope of engaging industry.

Website We are a not-for-profit organisation run entirely by volunteers. We stage a variety of type and typography related events

Website "Forget the Film, Watch the Titles launched in 2006 as the world's first online resource dedicated to film title design".

Creative Commons Attribution-ShareAlike 3.0 Licence
Profile Required
Reading intentions and notes are stored against your user profile. Please create a profile to use this feature.
My notes
You must be logged in to add a note
What are item notes?
You can use item notes to make personal notes on any of your reading items. Notes are private to you and will not be shown to other users.
You can review your item notes from the list, the item page or from your profile page.
---
How do I create an item note?
To make notes, first you must be logged in. Once logged in, simply click Add note? next to the list item you wish to make notes on. You can also make notes at the bottom of every item's detail page.
Your note will be saved automatically as you type.
Have you read this?
You must be logged in to set a reading intention
What are reading intentions?
Setting up reading intentions help you organise your course reading. It makes it easy to scan through your lists and keep track of progress. Here's an example of what they look like: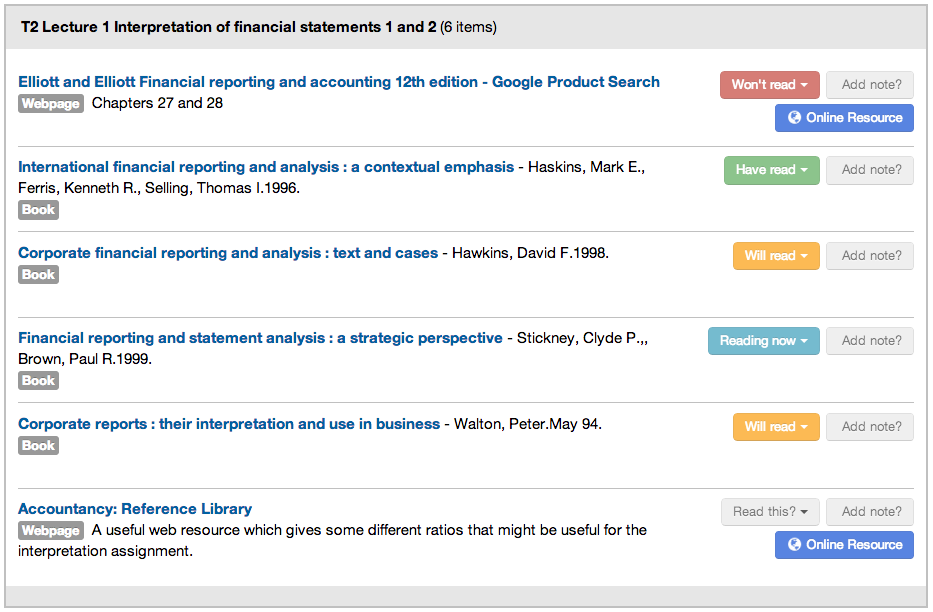 Your reading intentions are also stored in your profile for future reference.
---
How do I set a reading intention
To set a reading intention, first you must be logged in. Once logged in, click Read this? next to the list item you wish to set a reading intention for.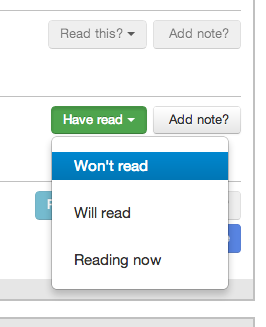 You can also set the reading intention from every item's detail page.