These books will be referred to repeatedly on the module. Extracts are set as Weekly Readings (see below) but the more of the book you read, the better.

The New Cinephilia (Kino-Agora 8) - Girish Shambu9780991830183

Book Recommended for Student Purchase The hard copy is only available from Canada, but you can purchase a Kindle edition via Amazon (it's free if you have Kindle Unlimited).

The Language and Style of Film Criticism - Andrew Klevan, Alex Clayton 2011 (electronic resource)

Book Core Reading Extracts are set as core readings in Week 1 (Klevan and Clayton's Introduction) and Week 3 (Keathley's essay on video criticism and cinephilia). Some of the contributors take more philosophical approaches (Sinnerbrink, Rothman), while others focus on things like performance (Toles), description (Klevan) and memory (Stern).

These are the texts you are expected to read in preparation for each week's class. The amount of reading required is probably more than you are used to; this is because postgraduate courses depend on higher levels of independent study. Please make sure you plan your reading time accordingly.

Week 1. Criticism and Evaluation

3 items

Introduction: Critical Questions - Mattias Frey

Chapter Core Reading Please read this first: it is more introductory and lays some of the groundwork for the module. Read the whole chapter, including the final section that explains the contents of the book (pp.14-17).

There will also be a small-scale research exercise to complete for this class. Details will be distributed in the Library/Research Skills induction session on Friday 22 September and uploaded to Blackboard.

Week 2. Cinephilia - old and new

4 items

Take notes and come ready to discuss the readings in class. Here are some questions to help focus your reading and note-taking:

How do Sontag and Shambu characterise cinephilia?
How has digital technology affected cinephilia? Note specific changes and trends, drawing on all three readings.
Which of these readings seems most 'academic' to you, and why? Think about research methods, evidence, and structure, as well as writing style.
Which reading do you find most engaging, and why?
Note any terms, ideas or points you are unsure about (or baffled by) to ask about in class.

The Decay of Cinema - Susan Sontag

Article Core Reading Sontag's short piece is much cited in work on new cinephilia - including by Shambu in the next reading.

The New Cinephilia (Kino-Agora 8) - Girish Shambu9780991830183

Book Core Reading I've recommended this for student purchase as a kindle from Amazon. For this week, focus on pages 1-26. If it looks like you may not have time to read Hagener as well, skip pp. 14-22 of Shambu.

Cinephilia and Film Culture in the Age of Digital Networks - Malte Hagener

Chapter Core Reading Read this last. Hagener focuses on the ways in which technology has caused 'seismic shifts' in cinephilia. Its focus on digital distribution networks and communities will also feed into next week's class.

Week 3. Digital film criticism and audiovisual essays

5 items

Frey and Keathley take very different approaches to thinking about digital criticism, but both discuss new forms of criticism that have been enabled by digital technology. Keathley's piece picks up on cinephilia and digital technology as well, bridging from last week.

Here are some questions to help focus your reading and note-taking:

How has digital technology affected film criticism? Note specific issues and new forms, drawing on all three readings (i.e., including Shambu as well, if you can).
Frey's chapter is a useful example of academic research into digital film criticism. How would you describe his methodology? How does he structure and substantiate his argument? Do you find his argument persuasive?
How does Keathley characterise the changing relationships between 'scholar' and 'critic' in the digital age?
What does Keathley mean by 'video essay' and how does he characterise the forms it can take?

The Spectre of 'Democraticization' in the Digital Age - Mattias Frey

Chapter Core Reading Frey's focus on Rotten Tomatoes provides us with another way of thinking about digital film criticism. (FYI, a different version of this chapter is included in Film Criticism in the Digital Age, edtied by Frey and Sayad.)

There will also be a small-scale research exercise to complete for this class. Details will be distributed in Week 2 and added to Blackboard.

The New Cinephilia (Kino-Agora 8) - Girish Shambu9780991830183

Book Core Reading If you have time, please also finish reading Shambu's book. In particular, we'll discuss the idea of 'micro-criticism' in class.

Week 4. Critical histories 1: André Bazin

4 items

Here are some questions to help focus your reading and note-taking:

The short extracts from Keathley are intended to provide an introduction to Andre Bazin. Why is Bazin considered such an important figure in film criticism and culture?
'The Evolution of Film Language' is a good example of why Bazin might be described as a 'historian of style' (Keathley 56). What are the two broad tendencies in filmmaking Bazin identifies and how does he distinguish between them?
Why does Bazin value 'composition in depth' as a major development in the evolution of film language?
Which of the filmmakers and films Bazin discusses are you familiar with? Please make a note and bring the list on Friday: it will help me direct our discussion if we can identify some shared knowledge. (If you haven't heard of any of them, don't worry! It's not a test.)
What do Bazin's arguments in 'The Evolution of Film Language' and 'The Ontology of the Photographic Image' have in common?

Extracts from Cinephilia and History: pp 13-14, 54-57, 82-96 - Christian Keathley

Chapter Core Reading I've selected some extracts from the book as core reading for this week and next. These have been digitised as a single pdf. THIS WEEK, please read pp. 13-14 and pp. 54-57, as an introduction to Bazin's work.

The Evolution of Film Language - André Bazin

Chapter Core Reading I find this translation more engaging to read than the version in What is Cinema? (listed below for 'The Ontology of the Photographic Image'). If you get a chance, compare the two versions.

The Ontology of the Photographic Image - André Bazin

Chapter Core Reading Another hugely influential piece by Bazin, frequently referred to by critics and theorists writing about cinematic realism. (It's shorter than 'The Evolution of Film Language.') If you have any problems accessing the e-book, the chapter is readily available online: just search for 'Bazin Ontology of the photographic image'.

Week 5. Critical histories 2: Auteur criticism and mise-en-scene

3 items

Introduction - Hillier Jim

Chapter Core Reading Hillier edited two volumes of selected works from Cahiers du Cinema. This is the Introduction to the first volume (the 1950s): don't worry about remembering all the names Hillier mentions in the first few pages - skim to get the gist, then focus on the sections on Authorship and Mise-en-Scene. The book also includes a 'Dossier' on Nicholas Ray.

Cinephilia and History: or, The Wind in the Trees - Christian Keathley 2006

Book Core Reading This week, please read pp. 82-96 (included in the Keathley pdf for Week 4). Although some of it covers similar ground to Hillier, it also includes a useful section on Nicholas Ray, and discusses how the idea of the auteur was picked up and developed by Movie in the UK and Andrew Sarris in the USA.

Week 6: Critical voices: Questions of representation

3 items

I chose these pieces because both critics draw on personal experience as part of their approach. Each piece also acts as an example of important historical shifts in film criticism and culture: from auteur criticism to an emphasis on politics, ideology and 'high theory' in the 1970s; and the rise of 'new queer cinema' in 1991-1992 as part of the wider development of indie cinema and independent festival circuits.

Here are some things to think about and take notes on:

In what ways do Wood and Rich draw on personal experience in these pieces?
How does Wood characterise his responsibilities as a 'gay film critic'?
To what extent does Rich show a similar sense of 'responsibility'?
How would you characterise each critic's 'voice' in these pieces? Think about their style of writing, choice of language, tone, the way they 'speak' to their readers (and to you), and the kinds of knowledge (about film, culture and society) which they assume their readers will have.
Where was each piece published (and republished)? How might this have affected the critic's approach to writing the piece?

Responsibilities of a Gay Film Critic - Robin Wood Jan/Feb 1978

Article Core Reading Wood was closely associated with auteur criticism, including publishing important books on Howard Hawks, Ingmar Bergman and Alfred Hitchcock. Here, he reassesses his own work, having 'come out' in the interim.

New Queer Cinema - B. Ruby Rich 01.09.1992

Article Core Reading Rich's article was originally published in Village Voice earlier in the year (as 'A Queer Sensation'). Sight & Sound reprinted it as part of a special supplement, 'The New Queer Cinema', including additional material. The online resource button downloads Rich's article, but you can access the full supplement online via the library catalogue if you're interested: search for 'sight and sound', then click through to the e-journal and selecting the September issue for 1992.

Week 7. What is Cinema? Ideas of the 'Cinematic'

3 items

There's no core reading this week. I realise you will be spending most of your time on the essay, but I would like you to spend an hour or two preparing for the class by looking back through your notes on Weeks 1-6 (both from class and on the previous core readings), focusing on the following questions:

How has film criticism helped shape ideas of the 'cinematic'? This could include identifying ideas about film as an art form and cinematic aesthetics. Do note specific examples from the core readings where possible.
What 'different types of criticism' have you encountered on the module so far? Do you feel able to 'recognise and evaluate' these different approaches and their intended audiences?

The idea is that this will not only give us something concrete to discuss in class but will also help you reflect on the assessment criteria for the essay.

Cinematic - Aaron Smuts 2013

Article Further Reading The article link does not seem to work, but if you click the 'Print Journal Search' button you can link through to the journal: the article pdf can be downloaded via the 2013 issue.

Week 8. Audiovisual Essays

1 item

There will not be any core reading or preparation required for this week's class, since you will be busy finishing the essay assignment. Please see the Seminar slides for links to audiovisual essays used in class.

Weeks 9. Retrospection and Re-evaluation

2 items

Week 10. Working as a Critic: Sean Wilson

3 items

In addition to some short readings, there are two tasks to complete before class:

Compile your personal 'Best 10 Films' list. (If you have time, do a 'Favourites' or 'Guilty Pleasures' list too.)
Write at least one piece of 'micro-criticism' for The Florida Project and/or Film Stars Don't Die in Liverpool and/or Good Time. See Blackboard for full details.

Michael Giacchino Interview: The Art of Scoring Movies - Sean Wilson

Webpage Core Reading I've picked this because it's a good example of Sean's specialist interest in film scores and composers. We'll also be talking about interviews as part of his professional work as a critic. Find out more about Sean's work if you have time: you can follow him on Twitter @seano22, and his bio there links to other publications he writes for.

'Introduction' (pp vii-xv) and 'Introducing Research Methods' (pp. 103-105) - Nick Moore

Chapter Core Reading These sections briefly introduce ways of thinking about academic and applied social research. While not everything it says is relevant to our subject areas, the general principles and terms are useful (e.g., distinguishing qualitative and quantitative research). We'll talk about these issues at various points in the remaining weeks of the module.

Week 11. Working as a critic: Tara Judah

1 item

In preparation for the session with our Guest Speaker, Tara Judah, there are various things we'd like you to do:

Write a 200 word review of one of the films we've watched for the module. You can develop the micro-criticism from last week or pick a different film. Email the review to me by Friday morning, so I can print out copies to bring to class; Tara will lead a group activity on review structure, style and expression as part of the session.
Listen to Tara talk about The Florida Project for Monocle24
Read some of her Festival reports.
Read two handouts of extracts, one from A.O. Scott's Better Living Through Criticism, the other from Shambu's New Cinephilia.
I've emailed all the relevant links and handouts to your UWE email.

Week 12. Cult cinephilia

5 items

Four readings may seem a lot, but both of the pieces by Martin are short (4-5 sides each) and the Gorfinkel piece is 6 pages with lots of pictures. The Hunter chapter is 16 pages, but I will indicate key passages to focus on. So it's about 30 pages in total. Remember to think about the author's overall argument as part of how you approach the reading.

Three things to think about and take some notes on.

How are terms like 'cult cinema' and 'trash cinema' defined or characterised?
What do cinephilia and cult cinema have in common?
How do the authors conceptualise ideas around high, low and middle-brow culture?

Light My Fire: The Geology and Geography of Film Canons - Adrian Martin 2008

Article Core Reading Although not (directly) about cult cinephilia, this short piece complements the ''Best 10 Films' exercise and gives us some more ways of thinking about 're-evaluation' and canon formation.

British Trash Cinephilia - I.Q. Hunter1844574156,9781844574155

Chapter Core Reading I will circulate a copy of the chapter in advance of class. It provides a good introduction to critical and theoretical issues around ideas of 'trash' film and the focus on the British context will provide a useful counterpoint to Gorfinkel's focus on US contexts. Some of what Hunter discusses also links to Martin's discussion of cinephiles' preference for the extremes of high and low culture.

Cult Film or Cinephilia by Any Other Name - Elena Gorfinkel Winter 2008

Article Core Reading Gorfinkel provides a historical survey of the cultural relationships between cinephilia and cult cinema, starting from the question, 'Which came first? The cinephile or the cultist?' There are some overlaps with Hunter and Martin, but I particularly wanted to include a female voice here as well.

Journals and Trade Publications

5 items

These are major publications in the field of film criticism and cinephilia. As Postgraduate students and industry professionals, you should aim to engage with these kinds of publications on a regular basis. You are not expected to read every issue or article, but do keep an eye on what is being published so that you have a sense of current issues and emerging debates.

Further Reading: By Topic

45 items

As postgraduate students, you should be researching independently, showing breadth and depth of knowledge. The suggestions below identify some of the major scholars and landmark works in the field to help you find your bearings, but you will need to build on these suggestions for assignments.

Audiovisual essays and videographic criticism

5 items

Critical histories

17 items

Bazin, Cahiers du Cinema and the French New Wave

7 items

Auteur criticism and mise-en-scene

3 items

Auteurs and Authorship: A Film Reader 20081405153342,1405153334,9781405153348,9781405153331

Book Further Reading Good edited collection, including 'classic' pieces (Truffaut, Sarris, etc.) alongside more recent work that challenges and expands the definition of 'auteur' to include other roles and collaborative approaches.

Other major figures in film theory/criticism

6 items

You'll find some names crop up repeatedly when reading about film criticism and cinephilia - such as Rudolf Arnheim, Bela Balazs, Sigfried Kracauer and Stanley Cavell. Each has had a long-lasting influence on what we might describe as more 'academic' film criticism and theory. For those who wish to find out more, I've picked a major work by each one, as well as a useful anthology.

Film Theory and Criticism: Introductory Readings 20090195365623,9780195365627

Book Further Reading This anthology brings together selected writings by a wide range of key figures, including pieces by Bazin, Arnheim, Balazs, Kracauer, and Cavell.

Film as Art - Rudolf Arnheim0520248376

Book Further Reading Originally published in 1932 - i.e., just after the coming of sound. Arnheim was particularly interested in visual perception and psychology.

Theory of the Film: Character and Growth of a New Art - Béla Balász 1952

Book Further Reading You can download a copy of the book (in various formats) via this link to archive.org. The chapters on 'The Close-up' and 'The Face of Man' are particularly well-known, but the first chapter, 'In Praise of Theory' is probably most directly relevant to this module because of its emphasis on film appreciation and culture.

The World Viewed: Reflections on the Ontology of Film - Stanley Cavell 1980067496196X,9780674961968

Book Further Reading Cavell is an American philosopher - one of the first to deal seriously with film. As you might expect, his writing is not always easy reading, but it is thought-provoking and engaging. He has been hugely influential on academic film criticism, as well as on the emergence of film-philosophy as an interdiscipline.

Retrospection and re-evaluation

9 items

Getting to Grips with Film Studies

3 items

This section includes some more introductory textbooks for those of you who haven't studied film before. I've selected books which take a more cultural/industrial approach, so they should complement the subjects you are studying on both modules. You don't need to read them all - have a browse through and see which one suits you best.

Film Studies: The Basics - Amy Villarejo 2013 (electronic resource)

Book Further Reading Pocket sized book with glossary (150 pages). Includes chapters on film language, film history, production and exhibition, reception and the future of film.

Film as Social Practice - Graeme Turner 2006 (electronic resource)

Book Further Reading A little out-of-date, but still a good introduction (240 pages). Chapter 2 provides a useful summary of the history of film studies, identifying key moments (some of which I mentioned in Week 1's class). It also has chapters on the industry, film language, and film audiences.

Film Studies: A Global Introduction - Glyn Davis, Kay Dickinson, Lisa Patti, Amy Villarejo 2015 (electronic resource)

Book Further Reading This is a much more substantial textbook (500 pages), but it is also the most up-to-date and the emphasis on a global approach to studying the industry is ideal. The Section on Where do Movies Go? includes discussion of distribution, exhibition, and evaluative contexts (criticism, festivals, and so on). Section 1 on 'Why are Movies Made?' also looks helpful, exploring different functions (entertainment, art, politics, informative, and so on).

New publications for the library to order

2 items

These items will not be available immediately. You are not expected to read anything on this list. Once the copy has arrived, it will be added to appropriate sections of the reading list.

Creative Commons Attribution-ShareAlike 3.0 Licence
Profile Required
Reading intentions and notes are stored against your user profile. Please create a profile to use this feature.
My notes
You must be logged in to add a note
What are item notes?
You can use item notes to make personal notes on any of your reading items. Notes are private to you and will not be shown to other users.
You can review your item notes from the list, the item page or from your profile page.
---
How do I create an item note?
To make notes, first you must be logged in. Once logged in, simply click Add note? next to the list item you wish to make notes on. You can also make notes at the bottom of every item's detail page.
Your note will be saved automatically as you type.
Have you read this?
You must be logged in to set a reading intention
What are reading intentions?
Setting up reading intentions help you organise your course reading. It makes it easy to scan through your lists and keep track of progress. Here's an example of what they look like: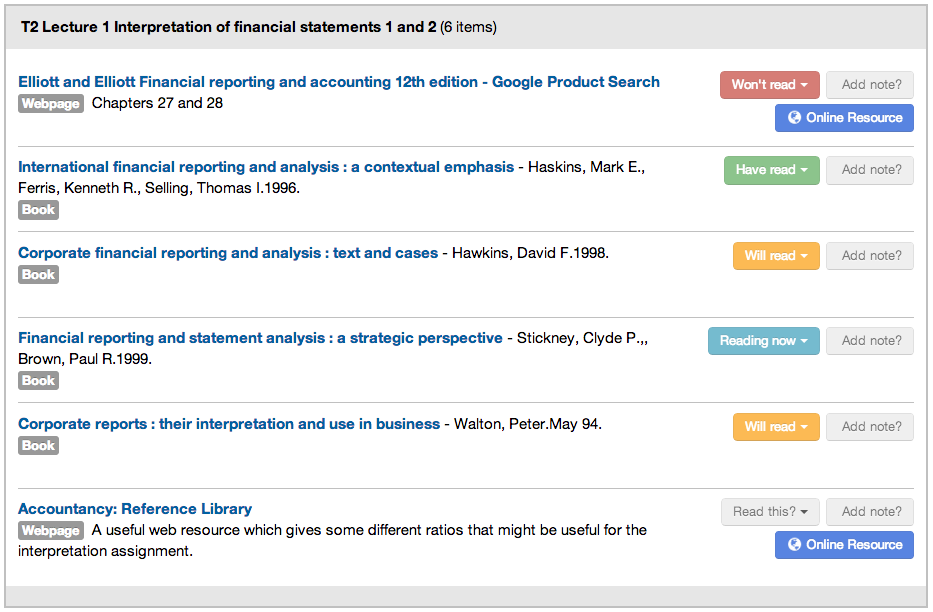 Your reading intentions are also stored in your profile for future reference.
---
How do I set a reading intention
To set a reading intention, first you must be logged in. Once logged in, click Read this? next to the list item you wish to set a reading intention for.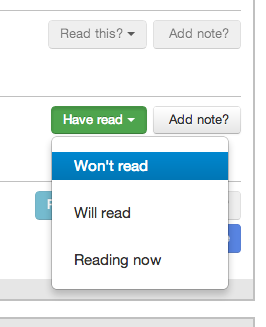 You can also set the reading intention from every item's detail page.